Home > Famous houses in america > Marget-Mitchell
Margaret Mitchell House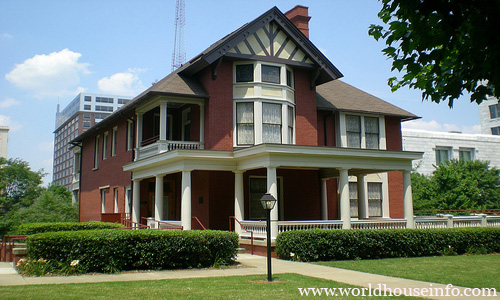 The Margaret Mitchell House and Museum is the former home of the author Margaret Mitchell situated in midtown Atlanta, Georgia. It was whilst living here that she wrote the bulk of her Pulitzer prize-winning novel, Gone With The Wind. In addition to the house, there is a Visitor Center and a museum building wholly devoted to the filming of the 1939 movie based on this book.
The house was built as a single-family residence at the turn of the 20th century. After the original family moved out prior to 1908, the house changed hands, and would later be moved from the front yard onto a new foundation built in the back yard. In 1919, the property owners converted it to an apartment building. On her wedding day in 1925, Margaret Mitchell and her husband, John Marsh, moved into Apartment No. 1, residing there for the first seven years of their marriage before moving to a larger apartment building in 1932. After a history of tenants moving in and out, developers' purchasing and planning to demolish the house, and two attempts to destroy the house by arsonists in the mid-1990's, the restored house opened to the public in 1997. There, docents guide visitors through the house and the apartment to learn of Mitchell's life in Atlanta, of facts surrounding her writing the novel, and of how the book advanced toward publication in North America and in non-Anglophone countries.
In 1999, the Margaret Mitchell House acquired a nearby empty building that once housed a branch of a local bank. That building is now the movie museum. Several collectors of "GWTW" movie memorabilia have donated parts of their collections for display in the new museum. Among these artifacts are photos taken during the movie's 1939 premiere in Atlanta; the front door to the Hollywood movie set of the O'Hara home, Tara; and, recognizable to the movie's aficionados, the portrait of Scarlett O'Hara from the Butler Mansion.
The Margaret Mitchell House and Museum operates under the aegis of the Atlanta History Center in Atlanta, Georgia.