Home > Famous houses in america > Mount Vernon
Mount Vernon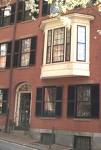 Mount Vernon was the home of George Washington. Built of wood in neoclassical Georgian style, theestate is located near Mount Vernon, Virginia in Fairfax County, on the banks of the Potomac River.
In 1674 John Washington and Nicholas Spencer came into possession of the land from which Mount Vernon plantation would be carved. When John died in 1677, his son Lawrence, George Washington's grandfather, inherited a bit less than half of the original tract. In 1743 George Washington's half-brother Lawrence Washington rebuilt the home their father Augustine had earlier built on the property. Initially named Epsewasson after a facing creek, the plantation was later renamed in honor of Admiral Edward Vernon, under whom Lawrence had served in the British campaigns against the Spanish in the West Indies. George was responsible for a great number of additions and improvements to the structures. On two occasions he practically rebuilt the main house, doubling its size each time. The great majority of the work was performed by slaves and artisans.
In 1754, following Lawrence's 1752 death, George leased the estate from his sister-in-law, Anne. Upon Anne's death in 1761 he inherited the property. From 1759 until the American Revolutionary War, Washington, who at the time aspired to become a prominent agriculturist, operated the estate as five separate farms. Washington took a scientific approach to farming and kept extensive and meticulous records of both labor and results.
Following his service in the war, Washington returned to Mount Vernon and in 1785-1786 spent a great deal of effort in improving the landscaping of the estate. It is estimated that during his terms as US President (1789-1797) Washington spent 434 days in residence at Mount Vernon. After his presidency, Washington tended to repairs to the buildings, socializing, and further gardening. The remains of George and Martha Washington, as well as other family members, are entombed on the grounds.
Mt. Vernon depicted on a 1936 U.S. postage stampAfter Washington's death in 1799, plantation ownership passed through a series of descendants who lacked either the will or the means to maintain the property. After trying unsuccessfully for five years to restore the estate, John Augustine Washington offered it for sale in 1848. The Virginia and United States governments declined to buy the home and estate.
In 1860, the Mount Vernon Ladies' Association of the Union, under the leadership of Ann Pamela Cunningham, acquired the mansion and a portion of the land for US$200,000, rescuing it from a state of disrepair and neglect. The estate served as neutral ground for both sides during the Civil War, although fighting raged across the nearby countryside. The mansion has been restored by the Association (without accepting any state or Federal funds), complete with period furniture and fixings, and today serves as a popular tourist attraction. The estate is also well known for its exceptional landscaping and ancillary buildings.