Home > Famous houses in england > Red House
RedHouse
Red House in Bexleyheath in the southern suburbs of London, England is a key building in the history of the Arts and Crafts movement and of 19th century British architecture. It was designed by its owner William Morris and the architect Philip Webb, with wall paintings and stained glass by Edward Burne-Jones. The house is of warm red brick with a steep tiled roof and an emphasis on natural materials.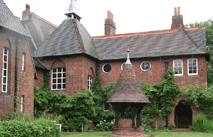 View of Red House from the garden
The garden is also significant, being an early example of the idea of a garden as a series of exterior "rooms".
The house was lived in as a family home for nearly 150 years. In 1952 Ted and Doris Hollamby moved into Red House: they restored the house and reinstated many of the original Arts and crafts features.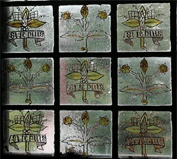 Window detail in Red House
The National Trust acquired Red House in 2003 and is carrying out further restoration and research to restore the house as closely as possible to its original condition. The house is open to the public, but at present visits are by guided tour only and must be booked in advance.
Red House, a famous architectural landmark house built in the Arts and Crafts style by William Morris and Philip Webb at Bexleyheath in Greater London.
The Red House at Red House Park, Sandwell, England.
The Red House, the Seat of the Houses of Parliament of Trinidad and Tobago.
The Red House, a 1947 movie in the Film noir genre, starring Edward G. RobinsonRed House", a blues-rock song composed and originally performed by Jimi Hendrix. It is noted for being an early recorded example of electronic effects applied to electric guitar.