Home > Famous houses in australia > Yarralumla
Yarralumla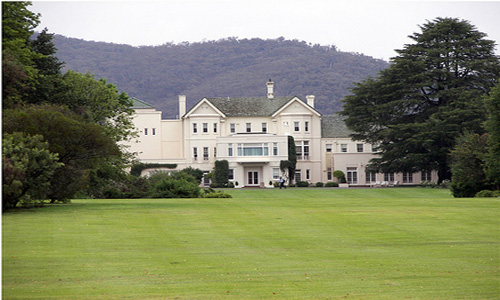 The official residence of the Governor-General of Australia Government House, Canberra, commonly known as Yarralumla is, located in the suburb of Yarralumla, Canberra.
The house occupies 53 hectares of parkland. One of Canberra's most expensive and exclusive areas the suburb of Yarralumla, which has grown up around Government House & is the site of many foreign embassies.
The Governor-General presides over meetings of the Federal Executive Council, holds ceremonies to present honors such as the Order of Australia, receives visiting heads of state and other dignitaries and the credentials of ambassadors to Australia, and entertains people from all walks of life at Government House,. It was in his study at Yarralumla that Sir John Kerr dismissed Gough Whitlam as Prime Minister of Australia on November 11, 1975.
Queen Elizabeth II, Australia's head of state, stays at Government House during hervisit to Canberra.
The Australian government was located in Melbourne during the formation of the Commonwealth of Australia in 1901 and 1927, and the official residence of the Governor-General (the representative of the Crown in Australia) was Government House, Melbourne. When Canberra was designated as the site of the future capital of Australia in 1913, the government bought "Yarralumla," a homestead built by the Campbell family in 1891, for use as a permanent Government House.
Due to First World War and postwar economies, nevertheless, actually the government did not move to Canberra until 1927, and it was only then that the Governor-General began to use Yarralumla. Between 1927 and 1930 the Governor-General continued to be based at Government House, Melbourne, and stayed at Yarralumla only when the Parliament of Australia was sitting.
The government, as an economy measure during the Great Depression, returned Government House, Melbourne, to the state government of Victoria, and Yarralumla became the Governor-General's only official residence in 1930. The first Governor-General Sir Isaac to live there permanently.
Since the 1920s the house has been renovated and extended a number of times, but the basic structure of the 1891 house can still be seen. The critics said that the house lacked distinction, and there were proposals to build a new, grander Government House. In recent years, however, Yarralumla has become generally accepted, and it seems unlikely that it will be replaced for many years.