Home > historical houses of europe > Apostolic palace
Apostolic Palace, Vatican City


The Apostolic Palace, which is also called the Papal Palace or the Palace of the Vatican, is the official residence of the Pope in the Vatican City.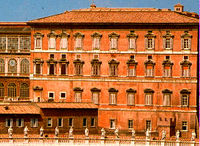 The Apostolic palace is a complex of buildings, including the Papal Apartment, the Roman Catholic church's government offices, a handful of chapels, the Vatican Museum and the Vatican library. In the Palace there are more than 1,000 rooms with the most known comprising the Sistine Chapel and its renowned ceiling frescoes painted by Michelangelo (restored between 1980-1990) and Raphael's Rooms.
Some other papal residences are at the Lateran Palace and the Castel Gandolfo outside Rome.
The Quirinal Palace was the Pope's official residence, before 1871. After the final overthrow of the Papal States in 1870, the King of Italy confiscated that palace in 1871, making it the king's official residence; after the abolition of the Italian monarchy in 1946, it became the President of the Italian Republic's residence.