Home > Historical houses of Europe > Belem Palace
Belem Palace, Portugal
Portugal's Belem palace is situated high up in gardens on a gently sloped hill, the Belem Palace is the official residence of Portugal's president since 1910. It was built in 1559 and altered in the 18th century by King Jose.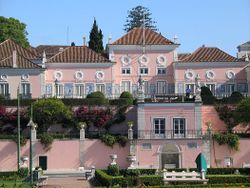 King Jose I was inside the palace where the Great Earthquake was felt only to a slight extent, and just like most buildings in this area, it wasn't severely damaged in 1755. It still retains its richly furnished halls, carvings, tiles, and numerous works of art.
A square with well-tended gardens and a statue of Afonso de Albuquerque, the Viceroy of India, standing atop a 20m-high Neo-Manueline pedestal in the center in front of the palace.