Home > Cape cod House
Cape Cod House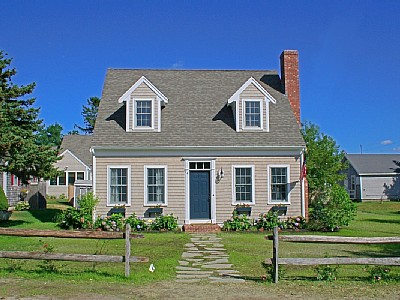 A cape cod house is a style of house originated in New England in the 17th century. It is conventionally characterized by a low, broad frame building, generally a story and a half high, with a steep, perfectly pitched roof with end gables, a large central chimney and very little decoration.
Traditional Cape Cod houses were very simple, symmetrically designed with a central front door surrounded by two multi-paned windows on each side. Homes were designed to withstand the stormy, stark weather of the Massachusetts coast. Modern Cape Cod architecture still draws from colonial designs.
The first Cape Cod–style houses had three categories:

Half Cape Cod: The half Cape bears a door to one side of the house and two windows on one side of the door.
Three-quarter Cape cod: The three-quarter Cape has a door with two windows on one side and a single window on the other
Full Cape Cod:The full Cape consists of a front door in the center of the home, flanked on each side by two windows.
The three categories of early Cape Cod houses were nearly identical in layout. Inside the front door, a central staircase led to the small upper level, which consisted of two children's bedrooms. The lower floor consisted of a hall for daily living (including cooking, dining, and gathering) and the parlor, or master bedroom