Home > Historical houses of Europe > Commerzbank Tower
Commerzbank Tower, Germany
Commerzbank Tower is a skyscraper located in Frankfurt, Germany. After it was completed in 1997, it ranked as the tallest construction in Europe until 2004, and now is only surpassed by Moscow's Triumph-Palace.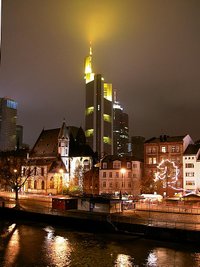 With a height of 259 m (850 ft), 56 stories, it provides 121,000 m² (1.3 million square feet) of office space for the Commerzbank Headquarters, including winter gardens and natural lighting and air circulation. It was designed by Sir Norman Foster & Partners, with Arup and Krebs & Keifer (structural engineering), J. Roger Preston with P&A Petterson Ahrens (mechanical engineering), Schad & Hölzel (electrical engineering). Construction of the building began in 1994 and took 3 years to finish.
The signal light on top of the tower increases the tower's height to 300.1 metres.
The tower is only 2 metres taller than the MesseTurm which is also in Frankfurt. Before the Commerzbank Tower, the MesseTurm was the tallest building in Europe.
The atrium is of a triangular shaped base and rises through the centre of the building. It is sectioned by a number of glass levels.
Unlike many skyscrapers, the tower does not feature an observation level and the only space which is accessible to the public is the plaza area. However, the public are permitted to go to the top floor if they have the permission of a member of staff in the building. However, even then, the public need to be allowed by a high ranking member of staff and finally need to display ID such as a passport.
The building is illuminated at night by a yellow light scheme which was designed by Thomas Ende who was allowed to display this sequence as a result of a competition.