Home > historical houses of europe > Drottinghalm palace
Drottinghalm Palace, Sweden
The Drottningholm Palace is the private residence of the Swedish royal family. It is located in Drottningholm on the island Lovön, and is one of Sweden's Royal Palaces.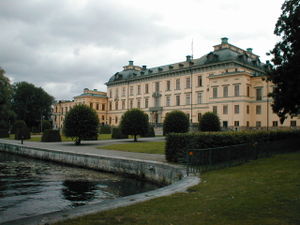 Construction of the palace commenced in the 17th century. The palace is a UNESCO World Heritage Site, mainly because of the Drottningholm Palace Theater and the Drottningholm Chinese Pavilion, and is open to the public at certain times. The palace is surrounded by many large parks. In the summer, the estfate is a popular spot for taking walks and picnics, since it is only 15 km from downtown Stockholm.
The Drottningholm Palace is on UNESCO´s World Heritage list. It is the most well-preserved royal castle built in the 1600s in Sweden and at the same time is representative of all European architecture for the period.
The combination of the exotic Chinese Pavilion pleasure palace, the palace theatre and the magnificent palace gardens make a visit to Drottningholm a unique experience.
Influenced by French prototype, the palace was built by architect Nicodemus Tessin the Elder by commission of Queen Hedvig Eleonora. A number of royal personages have since then left their mark on the palace.
The Palace has been the present Royal Family's permanent residence. The rooms in the southern wing of the palace are reserved for this purpose. The rest of the palace and grounds are open to the public year round.