Home > historical houses of europe > Flakfortet
Flakfortet, Denmark
Flakfortet is a sea fortress located on the artificially built island, Saltholmreb, in oresund between Copenhagen and Malmö. The Island and Fort are simple known as Flakfortet, the name of the Island, Saltholmreb, is seldom used.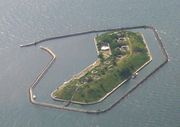 The Fort was built in the years 1910 - 1915 as part of Copenhagen's sea-fortifications. Until 2001 the Fort (and Island) was owned by the Danish Ministry of Defence, who had not used it actively since 1968. It was put up for sale in 1999 under the guidance of Statens Ejendomssalg (commonly known as Freja) which is the department under the Danish Ministry of Finance responsible for selling state-owned property that is not used by the State anymore.
In June 2001 it was sold to the Swedish company Malmökranen, however since the Fort is a Danish designated protected area the new owners must maintain the area and make it public available. The sale also had to be approved by the Danish Skov- og Naturstyrelsen who is the organization responsible for such areas in Denmark.