Home > Indian house > Indian cottage house
Indian Cottage House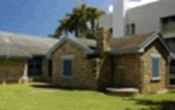 Also known as BAT (British Australian Telegraph) House, Lyons cottage is an early example of Darwin architecture. Located on the Esplanade overlooking the harbour, Lyons Cottage is the only remaining example of colonial bungalow style architecture to be found in Darwin. The building is constructed of locally quarried porcelanite stone and in its time, was the first stone residence constructed in Darwin for thirty years. Featuring shuttered windows and high ceilings, the design of the cottage echoes the distinctive architectural style of British colonial dwellings in India, Malaysia and Singapore. Lyons Cottage houses a collection of Larrakia and European early history.
The building is a bungalow style dwelling reflecting the style of tropical British colonial architecture elsewhere. Although there are louvres and extensive verandah spaces, except in the dry season the cottage is very hot and despite its location, captures little of the sea breezes. Probably for this reason, an overhead punkah fan was installed at the back verandah area which, with its proximity to the kitchen, was the natural site for the dining room.
The floors were concreted and potted palms placed throughout the house and the furniture came from Singapore. The toilet had a pan which was removed from the outside through a hole in the wall and the bathroom had a low, round dipper bath called a Shanghai Jar. Arthur Black, a 1930s resident, remembered the garden as: an avenue of Crotons in half kerosene tins along the pathway between the house and the servants' quarters … Quite striking.
There was a great housing shortage in post-war Darwin and squatters tenanted the cottage until 1948 when lawyer John (Tiger) Lyons returned to Darwin and leased, then purchased it in 1952.
The cottage was sold in 1974 and the site earmarked for redevelopment, but cyclone Tracy intervened. The cottage was restored after extensive cyclone damage and used by community groups and others, such as the National Trust and Australia Day Council, until it became a part of the Museum and Art Gallery of the Northern Territory for some years after 1984, and permanently in 1994.