Home > Famous houses in australia > Government house
Government House, Perth
The official residence of the Governor of Western Australia is The Government House in Perth, Western Australia and was built between 1859 and 1864.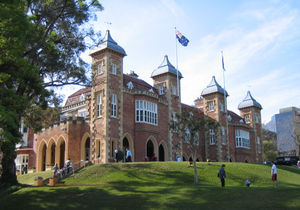 The Government house in Perth can be explained as Jacobean Mansion Revival style architecturally. The house is found in between St. Georges Terrace and the Swan River is set in 3.2 hectares of English-style gardens in the center of the Perth business district, The buildings and gardens are listed on the State's heritage register and are open to the public from time to time. The building has 16 rooms on the ground floor and 25 on the first floor. The foundation stone was laid on March 17, 1859 for the present day Government House.
In 1829, the first governor Captain James Stirling and his family were initially housed in tents on a site near the corner of Barrack Street and St Georges Terrace, known today as Stirling Gardens and Supreme Court Gardens. This building served successive governors until the new building's opening .
In 1832, a provisional wooden building was constructed on the same spot and used until the so-called original Government House was built a little distance away near the today's building between 1834 and 1835 Built at a cost of £15,000 largely with convict labour, Governor John Hampton took up residence in 1863, prior to its completion in 1864. In the 1890s, a ballroom was added. It is believed to have been designed by government architect, Hillson Beasley who designed a number of public buildings in the city.