Home > Famous houses in chicago > Water Tower
Water Tower
Water Tower was built in 1869 and is Located in the northern portion of the Magnificent Mile at Chicago Avenue, the Chicago and is one of few buildings that survived the Great Chicago Fire of 1871, due to its construction of limestone blocks. The tower, which resembles a small castle, is functionally obsolete and serves as a visitor information center, where the public can obtain literature about Chicago attractions.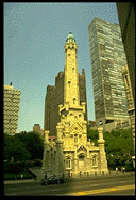 The Water Tower is also called as Home to City Gallery, Chicago's official photography gallery. The pumping station still pumps water for the city. The Chicago Water Tower was designated the first American Water Landmark in 1969 and was designated a Chicago Landmark in 1971.
The foundation of the Tower consists of 168 piles filled with concrete and capped with 12-inch oak timbers. Massive stones laid in cement complete the base up to six feet below the grade. The Tower was erected to house a 138-foot-tall standpipe, three feet in diameter. This standpipe served to equalize pressure and to minimize the pulsations of the water flowing in the mains. The tower has five sections from the square ground-level base with battlement pillars at each of its four corners. Each of the 40-foot-wide sides has a stately doorway and two grand windows. The 2nd & 3rd sections are similar in design as they rise in diminishing size. In the center the Octagonal tower is found and set back from the top of the third section. It rises 154 feet above the ground level. The standpipe was removed in 1911 when it was no longer needed. The spiral staircase which encircled the standpipe, however, is still intact and is used to reach the tower cupola.
During May of 1969 of its Centennial Anniversary, the Chicago Water Tower was selected by the American Water Works Association to be the first American Water Landmark in the nation. The tower was completed in 1869 and survived the Great Chicago Fire of 1871. The architect was William W. Boyington and the tower is constructed of Joliet limestone blocks quarried in Illinois.