Home > Famous houses in America > Belcourt Castle
Belcourt Castle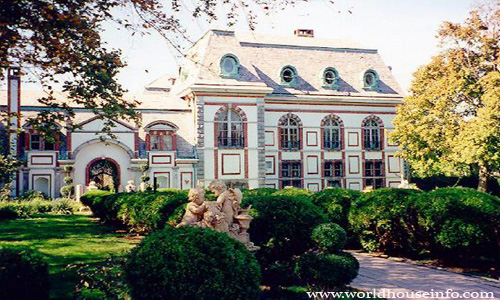 Belcourt Castle is the former summer cottage of Oliver Hazard Perry Belmont, located in Newport, Rhode Island. Located on Bellevue Avenue, Belcourt was designed by Richard Morris Hunt for the heir of August Belmont, a Prussian Jew who came to the United States in 1837 as an agent for the Rothschilds and accumulated enormous personal wealth as a banker. Oliver Belmont, at 33, was still a bachelor during the construction of his 60,000 square foot (5,600 m²), 60 room summer villa. Based on a Louis XIII hunting lodge at Versailles, Belcourt incorporated Oliver's love of pageantry, history and horses in its magnificent interior halls, salons and ballrooms. Belmont wanted Belcourt designed precisely to his specifications. Hunt was hesitant, but he concentrated on his guiding principle that it was his client's money he was spending.
When construction finished in 1894, the entire first floor was composed of carriage space and a multitude of stables for Belmont's prized horses . Scheduled to open for July 4th of that year, Belcourt would remain closed for the summer season. Belmont was hospitalized in New York City, the victim of a mugging. It would be a full year until Belmont saw his completed mansion. The summer of 1895 witnessed the thirty servants of Belcourt preparing the vast estate for the arrival of its owner. Immediately, Belmont set out to inspect his extensive stables, which entailed the entire south façade. The building was formed of a large quadrangle, with two story wings connecting to a three-story main block (the north wing). The result can be viewed today in the form of a large, 80 by 40 foot (24 by 12 m) central courtyard with half timbers. Inside the mansion was just as magnificent and somewhat eccentric. Belmont housed his vast collection of horses and carriages on the first floor, accessed by two huge carriage entrances on either side of the north façade. To the west of this vast area was Belmont's Francis I Renaissance-style Grand Hall and foyer which exited onto Ledge Road. The monumental Gothic rooms with their huge stained-glass windows were emblazoned with the coat of arms of Dunois, the Bastard of Orléans. The room's original damask, blood red in colour, has long since been replaced with the same fabric in gold. Ascending the Grand Staircase, now a replica of the stairs in the Cluny Museum in France, guests reached Belmont's second floor Grand Hall.
The details are exactly the same as those of its partner room below. Belmont married Alva Vanderbilt, the former wife of William Kissam Vanderbilt, on January 11, 1896. Eager to reshape and redesign Belcourt, Alva made changes that morphed the already eccentric character of Belcourt into a yet more eccentric hybrid mixture of styles. Oliver Belmont died in 1908, and surviving Belmonts sold their interest in Belcourt in 1940. Belcourt deteriorated, largely uninhabited under several owners, until the Tinneys, of Cumberland, Rhode Island, bought Belcourt in 1956 for $25,000. In addition to changing the name from Belcourt to Belcourt Castle, the Tinneys filled the house with their own collection of antiques and reproductions. Included are a coronation coach, which the Tinneys made, and an original copy of a Hyacinthe Rigaud portrait of Louis XIV. The centerpiece of the Tinney additions is an enormous Imperial Russian-style chandelier, which holds 13,000 rock crystal prisms and 105 lights. The luminous treasure hangs a few feet above the floor of the banquet hall.
Materials
Belcourt Castle's distinctive exterior appearance was achieved through the use of brick and stone to frame the windows, doors and fields of stucco.
Exterior wall finishes: brick, rough cast, Westerly granite, stucco and half timbers
Roof finishes: slate and copper (oval dormers, flashing and flat areas).
Interior decorative finishes: The interior finishes at Belcourt were completed by 300 imported artisans.
Ceilings: chestnut beams, gilding, sculpted plaster.
Flooring: oak, marble mosaic, Belgian brick.
Wall finishes: painted canvas, oak, mahogany, silk damask and brocade, gilding, imported panelling, plaster.
Other: stained glass, bronze (light fixtures).
Other: wrought iron (gates, grilles and railings), stone (pilasters, pathways and estate walls).
Structure: Steel I-beams, brick (firewalls, structural partitions), concrete, heavy timber (beams, rafters and floor joists), iron (support rods for staircase, ceilings, etc).
Foundation: concrete and cut stone.