Home > Famous Houses in england > Harewood house
Harewood House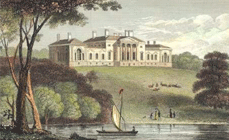 Harewood House from A Complete History of the County of York by Thomas Allen (1828–30), showing the house before Barry altered the facades and added an extra storey to the pavilions.
Harewood House is a country house near Harewood, West Yorkshire, England. It is a member of Treasure Houses of England, a marketing consortium for the ten foremost stately homes in England.
The house was built from 1759 to 1770 for the Lascelles family, who had bought the estate after making their fortune in the West Indies through Customs positions, slave trading and lending money to planters. John Carr was one of the architects. The other architect was Robert Adam. Most of the furniture is by the most famous English furniture designer of the 18th century, Thomas Chippendale, who came from nearby Otley.
Lancelot Brown ("Capability" Brown) designed the grounds to which Sir Charles Barry later added a grand terrace.
The house is still the family home of the Lascelles family. Lord Harewood, George Lascelles, is the seventh Earl. His mother was Mary, Princess Royal, daughter of King George V and Queen Mary.