Home > historical houses of europe Triumph palace
Triumph Palace, Russia
Triumph-Palace is the name of an apartment building in Moscow. It is sometimes called the 8th Tower because it is similar in appearance to the Seven Sisters skyscrapers built in Moscow by Stalin through the 1950s. Construction began in 2001.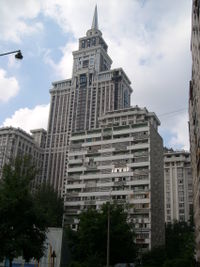 The 57-story building, containing about 1,000 luxury apartments, was topped out on December 20, 2003, making it Europe's tallest building at 264,1 meters or 867 feet. The previous title holder was the Commerzbank Tower in Frankfurt.
Building Uses
residential
restaurant
retail
fitness center
Structural Types
highrise Architectural Style
neo-classical
neo-gothic
Materials
concrete
glass
granite
marble
stone
wood
Status: built
Construction Dates
Started: 2001
Finished: 2005
Floor Count: 57
Basement Floors: 2
Floors to Floor: 3.15 m
Floor Area: 163,300 m²
Description - Developer: Don Story
Europe's Tallest Building since it has topped out on 20 december 2003 at 264.1 meter.
This building is also the world's fourth residential tallest.
The spire of building is 48.3 meters tall and has dynamic damper functions. It is divide into 3000 piece with total weight of 52 tones. The spire was tested in a wind tunnel before it was installed on the building. The top of the spire is an active lightning connector.